Hi, I'm Emma.

Achieve your career aspirations in data science with the support of a career coach. I'm here to help you navigate the job search process and land the role of your dreams.
Let me be your guide and mentor, providing personalized guidance and support every step of the way towards securing the offer you've always wanted.

Looking for Data Scientist Jobs?
Choose your FREE resource below and add serious momentum to your job search and interview preparation!
Data Science Resume Checklist
My exclusive data science resume checklist is loaded with tips and tricks to help you create a standout resume that will catch the attention of recruiters and hiring managers.
Product Case Interview Cheat Sheet
Struggling with product case interviews? My product case interview cheat sheet is packed with frameworks and tips that helped me and many others ace product case interviews.
A/B Testing Cheat Sheet
Looking for a quick reference for various concepts, steps, and techniques in A/B testing? This is my ultimate guide for anyone preparing for A/B testing interview questions.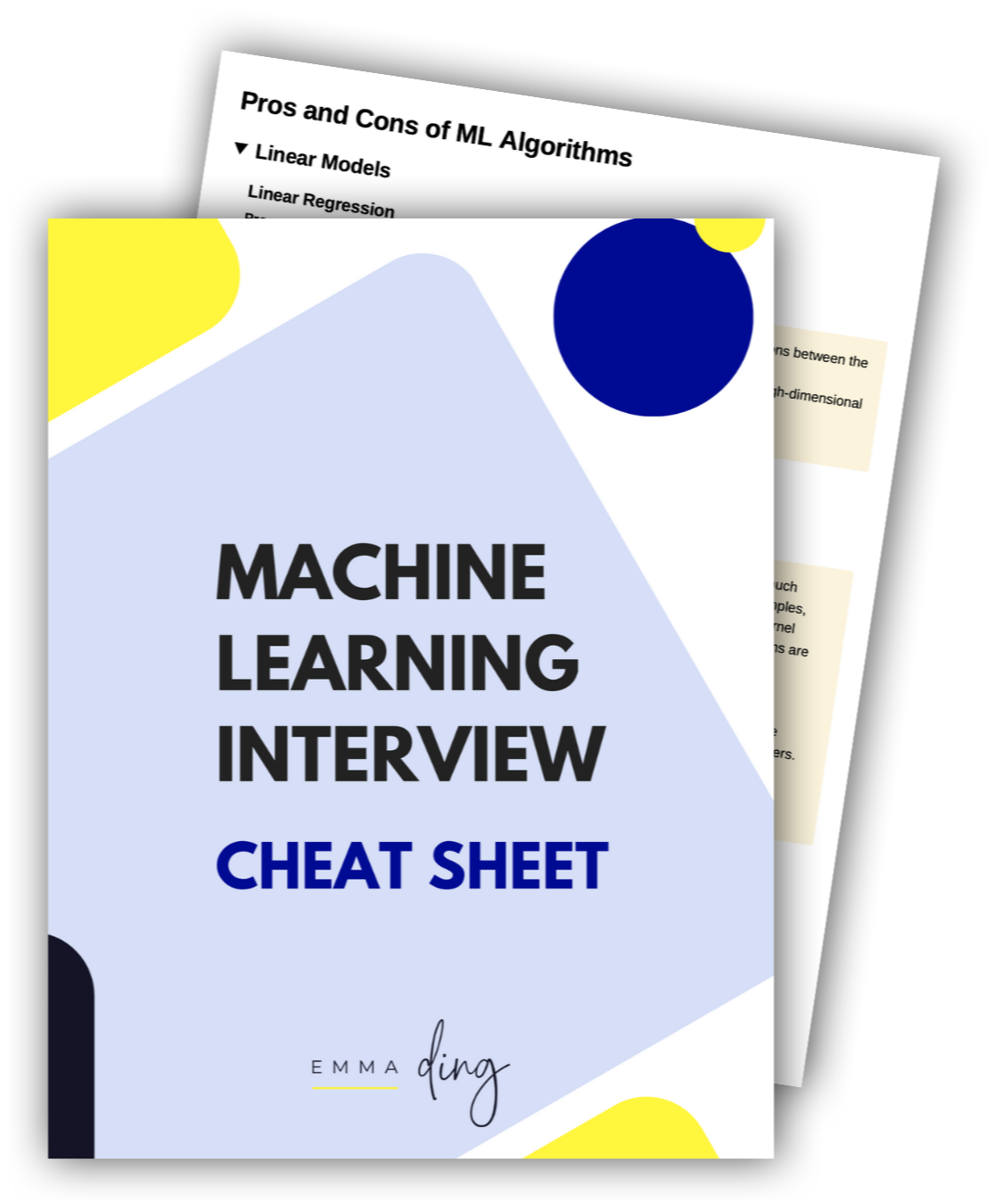 Machine Learning Cheat Sheet
One-stop resource for all things machine learning. With key concepts, common algorithms, and useful formulas, my cheat sheet provides a quick reference guide to help you navigate the complex world of machine learning.
Statistics Interview Cheat Sheet
My statistics interview cheat sheet is here to help you prepare and feel confident on interview day. Packed with essential concepts, formulas, and sample questions, this cheat sheet is your ultimate resource for acing your statistics interview.
Behavioral Interview Cheat Sheet
Tips and strategies to help you succeed in your behavioral interview. With common behavioral questions and step-by-step guidance, you'll be well-equipped to impress your interviewer and stand out from the competition.
My YouTube channel is filled with real-life interview questions and answers, as well as tips and insights that I've learned from my own experience.
Whether you're preparing for product case interviews, statistics interviews, SQL interviews, machine learning interviews, or behavioral interviews, I've got you covered. My videos cover everything you need to land your first data scientist job.
CHECK OUT MY VIDEOS
Some people prefer reading to watching, and if that's you, I have your back.
On my blog, no matter where you are in your career journey, you will find detailed articles on various topics to help you prepare for and ace interviews in the data science field.
CHECK OUT MY BLOG POSTS
My Story
When I was laid off, I could have easily given up and accepted defeat. But instead, I chose to turn this challenge into an opportunity. I dedicated myself to becoming a highly competitive candidate in the data science job market, and my hard work paid off. Within just two months, I achieved a 100% on-site interview to offer rate and landed my dream job at Airbnb.
But my journey didn't end there. As I looked back at my success, I realized that I wanted to make a difference in the lives of others. That's why I made the bold decision to leave my dream job and become a data science career coach. My mission is to help aspiring data scientists reach their full potential, just as I did.
Through my coaching, I provide personalized guidance and resources to help my followers succeed in their careers. Whether you're just starting out or looking to take your career to the next level, I'm here to support you every step of the way. Together, we will overcome any obstacle and turn your career aspirations into a reality. Join me in this journey, and let's make data science your path to success.